The COVID-19 pandemic and its aftermath have affected all our lives, our society and our clients' work. Here you will find our latest thinking as well as details of services that can help you find your new normal.
At Sonnet, we have been talking to clients and others in the charity, social enterprise and purpose-led sectors, and have developed a set of services specifically designed to help organisations deal with the aftermath.
Times like this provide opportunities as well as challenges. We have discovered three distinct characteristics of the pandemic, which is acting simultaneously as:
A lens through which to re-evaluate core societal needs – viewed without the filter of masking inequalities;
A catalyst providing a 'rapid development' environment for new ways of working, backed by high profile recognition of the social issues and public perception of our own and others' needs, and a conviction that nothing is immutable;
A platform on which we can lead in calling out problems, providing solutions, and pointing towards the change that is needed.
How we can help
We are already working with clients to understand the true impact of the pandemic on their business or operations; to re-assess their future; and to recognise the opportunities that such a seismic shift in normality might offer.
We have developed a set of services specifically designed to help organisations deal with the aftermath of the pandemic – read about how we can help in our services brochure.
Our strong values have guided the design of services to support recover from the impact of the COVID-19 pandemic.  Each service in this portfolio responds to at least one of three key elements which we see as vital for a recovery that 'builds back better': Developing productivity, Defending fairness and the vulnerable, and Re-imagining services in the 'new normal'.
The services listed below (and described in the brochure) have been specifically developed to meet client needs arising from the pandemic and the resulting lockdown.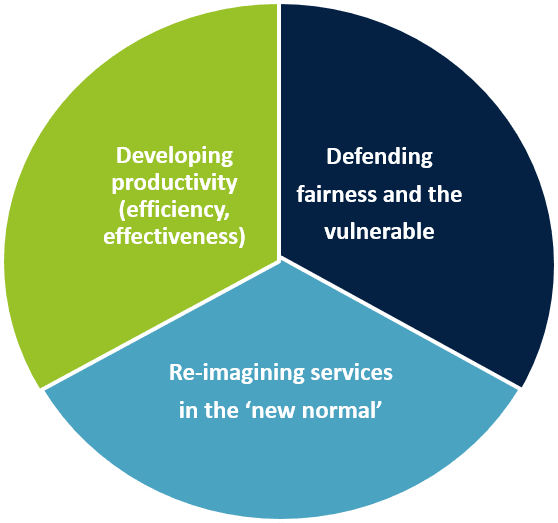 1.Strategic service renewal
Delivering outcomes through connected systems
2.Keeping impact in mind under pressure
Regaining and retaining a focus on impact
3.Re-imagining through necessity
Re-assessing needs, assets, resources and delivery systems
4.Scenario based planning
Using scenarios as a foundation for planning, agility and preparedness
5.Vulnerability focused risk management
Focusing on how to manage vulnerabilities, whatever their cause
6.Fundraising and financial advisory
Finding solvent ways through the crisis and resourcing post-COVID-19
Click on the image (right) to download our brochure of services designed to support our clients in the wake of the pandemic.
We also offer tailored responses, ranging from large scale support to help with 'worrying questions'.  If you are looking for help to understand your options or to discover your 'new normal' we should be delighted to hear from you.
We have collected all of our blogs and articles about the pandemic in one place.  We'd love to hear your thoughts or suggestions on topics that would be of interest.