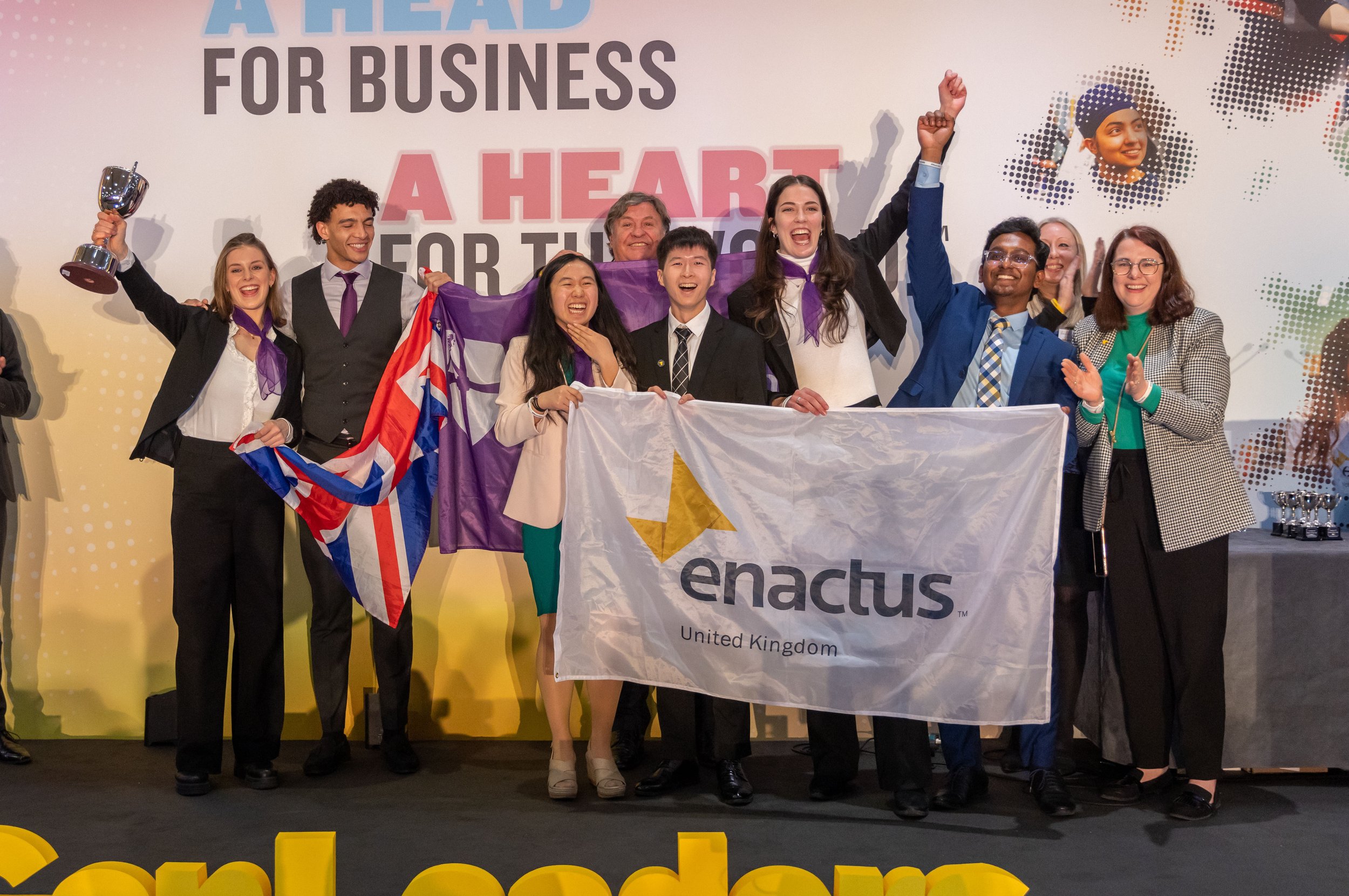 Since the Enactus World Cup 2023, held in late October, I have been reflecting on Sonnet's involvement and engagement with Enactus UK: how we've helped them, been inspired by them and learned from working with them. I was delighted to have been asked to be one of the judges at the Enactus UK Expo earlier this year. Having supported Amy Brereton and Enactus UK for a couple of years, it felt great to be invited and to be more involved.
I wasn't sure what to expect when I arrived at the Excel Centre for the event. I knew I was looking forward to seeing how the help and support Sonnet had provided to the Enactus teams had influenced their presentations.  I also knew that there would be teams present from all over the country but the number of people filling the room (with each university seemingly having their own supporters' section too) was way more than I expected! It was clear through all the excitement just how invested and passionate the students and their supporters were.
There was a real sense of community in the room. It felt like everyone knew everyone else (or at least they were happy to get chatting with those they didn't). I also noticed the high level of enthusiasm of the other judges (who are all from various professional backgrounds), and the deep connection they felt towards the competition and the cause.
It is fair to say that it was difficult NOT to get swept up in the energy of the day.
The Enactus Annual Social Impact and Innovation Competition
Enactus UK works to support young people of secondary school and university age into employment, whilst empowering them with the knowledge, attitudes and skills to make their world a better place through social action and social enterprise. Each year, they do this with the support of over 600 volunteer mentors and advisors, supporting over 12,000 beneficiaries.
The university programme is centred upon the annual Enactus' annual national social impact and innovation competition. Teams from more than 60 universities around the country entered the National Competition – these were whittled down to a final eight who are showcased at the UK National Competition Expo. The winner went on to represent the UK at the Enactus World Cup.
The Enactus National Competition is now in its 22nd year and is the pinnacle event in the Enactus UK calendar. The competition drives innovation and is a great way to accelerate impact that is so desperately needed, with a focus on delivering the UN Sustainable Development Goals here in the UK. The National Competition is a fantastic way for the Enactus UK students to demonstrate the positive impact the are making through their projects. For us, it is a great way to have a direct impact on the students involved too. Core employability skills such as communication, leadership, teamwork, resilience and self-reflection are all built as part of the preparation and execution of the team's competition entry, and we believe this is just as important when creating our future leaders as the fantastic impact they create through their projects.
The judges, therefore, are asked to consider the following "Which Enactus team most effectively demonstrated entrepreneurial leadership to drive business and innovation for sustainable positive impact to benefit people, plant, and prosperity, within the last year?'
The experience of being a Judge
Each judge received a handbook, containing evaluation forms to complete for each of the eight finalists. Each team was scored against criteria listed under four headings:
Entrepreneurial leadership
Innovation
Use of business principles
Sustainable positive impact
With my 'impact' hat on, I gave particular attention to the last of these. I wanted to see how the projects were ensuring they understood their intended impact and how they planned to evidence or demonstrate it. In the process of working with some of the team, we found that many had brilliant and innovative ideas, but were not fully exploring the needs they were trying to meet – or the potential unintended impact their work could have in other areas.
I was glad to see that many of the finalists' presentations talked about needs and impact. It was clear throughout how much they cared about their projects and how hard they had worked to reach the national expo. It was impressive to see how teams had turned so many innovative ideas into amazing and impactful projects.
Taking inspiration from the teams
I really enjoy interacting with the students and watching the passion they have for making positive contributions to society, unfold. Sonnet ran several workshops and 1-2-1 mentoring sessions for Enactus' students to help them better understand and talk about the impact of their individual projects.
Seeing the students' social awareness, strong desire to make a difference, and their drive to improve society, is not only inspirational but also reassuring, highlighting a robust generation of social entrepreneurs ready to make the world a better place for everyone.
Helping the teams communicate the positive impact of their projects and taking part in the National Expo has enabled Sonnet and Enactus UK to further develop our collaborative partnership. They have said that our collaborative partnership has proven to be invaluable to their organisation:
"Sonnet's unwavering support and guidance have significantly benefited both Enactus UK and our teams of young people nationwide. Their support has empowered us to enhance the impact of our interventions and also effectively communicate that impact, in turn amplifying the work we have done to encourage more active participation with all stakeholders.

Sonnet Impact has played a crucial role in facilitating knowledge transfer on key topics, most notably the theory of change, which they have done in a detailed yet understandable way. Their practical insights on implementing this knowledge have been instrumental in improving the impact that students generate through their projects. We are incredibly grateful for Sonnet's support and look forward to the continued achievements that we will achieve together."
We are now collaborating on a series of short video modules that students will be able to work through when it suits them. The videos will focus on developing the students' understanding of impact further: introducing them to ideas, concepts and frameworks for testing and analysing their work. We hope that through these videos we will be able to reach more students alongside those who were able to attend workshops and 1-2-1 sessions.
Enactus World Cup 2023
Each year the the Enactus World Cup is hosted by a different city – with this year being Utrecht, The Netherlands. National champions from 33 countries were present during the event last week (17-20 October). The University of Durham represented the UK at the event. Kafrelsheik University from Egypt ultimately emerged as the winner.
What I learned and want to share
Sonnet's support for Enactus UK is primarily intended to help to improve their projects – ultimately to maximise their positive impact. However, supporting them also gave me time to reflect and think about how we support any type of organisation to explain and measure their impact.
Here are my three key takeaways for impact-focused organisations:
Staying Rooted in Addressing Real Needs: In our work with Enactus students, a recurring theme was the need to identify the core needs at the heart of each project – and constantly coming back to these to check and re-check the focus and direction of the project. Without this being constant through your work, you can never be sure that you are actually making an impact
Evidencing impact: As a judge, the projects that I scored most favourably were those that demonstrated they were gathering evidence of their impact. The most impressive projects had identified information to gather before and after an intervention and/or had collected case studies from people benefiting from the provision.
Positive impact is good for business: For the Enactus teams, we emphasised that projects must also be entrepreneurial as well as impactful. For a business to make sustained positive impact, it must have a solid business strategy as its foundation. Remember, the more financially sound a project is, the more resources it can reinvest into scaling its impact.
Read more about how we can help your organisation to better understand, improve and demonstrate the value your create.